Search Engine Optimizer configuration (up to 3.0 version)
The following are SEO config items no longer available in quintagroup.seoptimizer after 3.0 version.
1. Additional keywords that should be added to the content types.
Use this field when you want that your content types receive additional keywords from the ones you manually specify. Enter one keyword per line.

2. Keywords behaviour
Plone SEO has several settings to contol keywords behaviour: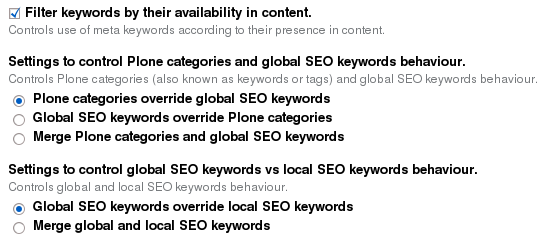 Last modified
9 years ago
Last modified on Apr 20, 2010 10:36:02 AM
Attachments
(2)
Download all attachments as: .zip