Version 12 (modified by olha,

10 years ago

) (diff)
Plone Tabs (qPloneTabs)
Plone Tabs (qPloneTabs) is a user-friendly product for managing the tabs on the Plone site without need to go to ZMI.
Plone Tabs Features
Gives an opportunity to create/delete/rename tabs using Plone Control Panel
Allows changing the tabs order by drag-and-drop
Installation
Install as Zope product
Install in your Plone instance with Quick Installer (Plone Control Panel -> Add/remove Products)
How To Create New Plone Tabs
Have a look at ​Plone Tabs in Plone 2.5 screencast
Go to your Site Setup
Select "Plone Tabs" from the list "Add-on Product Configuration"
Enter the name and the link of the tab you want to create
Enter Tab's title
Click "Save" button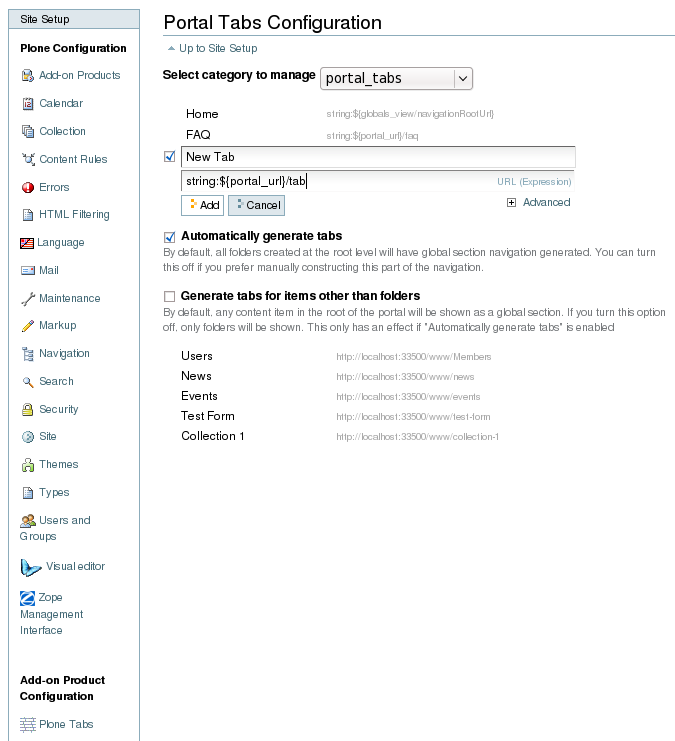 How to change the order of the tabs?
Click "Reorder" on the left of the page and you will see the list of all your tabs
Change the tabs order by drag-and-drop and save your changes.
How to delete or disable Tabs?
in case you need to get rid of a tab, press on the bin icon and the tab will be deleted for good.
if you only need to disable the tab, for example for some period of time, but keep it available - remove a tick from the box next to the tab's title.
How to edit Tabs?
choose that one you want to rename, click on it, type a new ID (title);
click this 'Plus' button to change the title, url or a condition under which the tab will be visible
advanced edit allows to set condition (to make tabs selectively appear) under which this tab is or is not visible (this is done in Template Attribute Language (TAL) - an attribute language used to create dynamic templates). Condition (Expression) -- A TALES expression that determines whether the described action should be shown or not.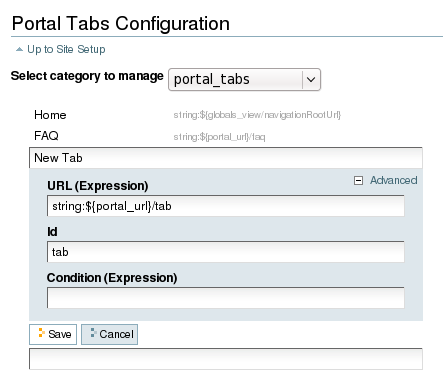 Example of qPloneTabs use on http://www.companiesinc.com/: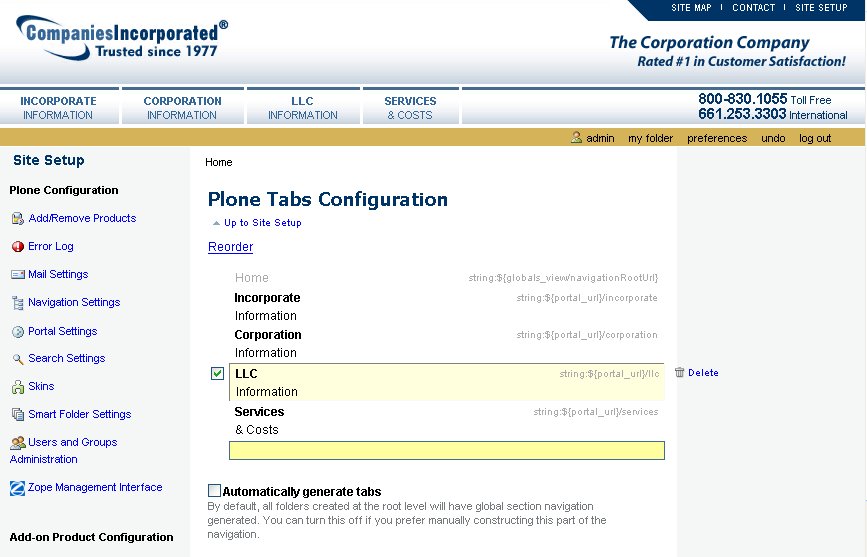 Attachments
(4)
Download all attachments as: .zip